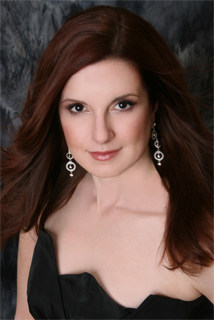 Mezzo-soprano Elizabeth Buckley possesses a voice of unique warmth and clarity. Praised as "a talented actress," "brilliant and lovely," "producing high notes with thrilling effect" by John Frayne of the Champaign-Urbana News Gazette, she is equally comfortable in staged roles as well as concert and chamber music. She recently sang her début recital at Carnegie Hall as 2011 First Prize winner of the Barry Alexander International Vocal Competition. Alongside baritone Nathan Gunn, she toured with pianist John Wustman in his Schubert Lieder Recital Series, and has collaborated with numerous musicians and ensembles in recital, oratorio, opera, musical theater, choral performances, and newly commissioned works. This fall, Elizabeth released her début solo CD, Must the Winter Come So Soon? featuring Brahms' Zwei Gesänge with Grammy award winning violist, Masumi Per Rostad, of the Pacifica Quartet. Currently, it is available on iTunes and Amazon. The CD release party will take place at Indi Go Gallery on December 13th.

Opera and musical theater roles she has performed include Rosina in Il barbiere di Siviglia, Cherubino in Le nozze di Figaro, Mother Marie in Dialogues des Carmélites, Dido in Dido and Aeneas, Zita in Gianni Schicchi, Nancy in Albert Herring, Mrs. Splinters in Tender Land, Dafne in L'Euridice, Third Lady and Third Spirit in Die Zauberflöte, Iolanthe in Iolanthe, Phoebe Meryll in Yeomen of the Guard, Nettie and Julie Jordan in Carousel, Irene Molloy in Hello, Dolly!, and Sandy in Grease.

Concert and oratorio repertoire performed includes J.S. Bach's Johannespassion, Magnificat, Mass in B minor, Matthäuspassion, Missa Brevis, Weihnachtsoratorium, Johannes Brahms'Alt-Rhapsodie, Zwei Gesänge, Ernest Chausson's Chanson Perpétuelle, René Clausen's A New Creation, Memorial, François Couperin's Leçons de ténèbres, Edward Elgar's Dream of Gerontius, Bradley Ellingboe's Requiem, G.F. Händel's Isreal in Egypt, Messiah, Joseph Haydn's Missa in Tempore Belli, Felix Mendelssohn's Elijah, A Midsummer Night's Dream, W. A. Mozart's Great Mass in C minor, Requiem, Giovanni Pergolesi's Stabat Mater, Maurice Ravel's Les Chanson Madécasses, Giuseppe Verdi's Requiem, and Antonio Vivaldi's Gloria.

She also is the recipient of the Presser Foundation Award for Outstanding Musician, and the Grace Wilson Excellence in Singing Award. Elizabeth is also the winner of the Gunsalus Singing Competition, the 21st Century Piano Commission Competition, and the Kate Neal Kinley Memorial Fellowship. Recently she was selected as a semi-finalist in Gerda Lissner International Vocal Competition, the Oratorio Society of New York Solo Competition, and a finalist in the Bel Canto Chorus Regional Artist Competition and Elgin Opera Competition. Elizabeth was also selected as a Regional Finalist in the New York Metropolitan Opera National Council auditions and a finalist in the Patrick G. and Shirley W. Ryan Opera Center at Lyric Opera of Chicago.

From her background as a pianist, organist, violinist, and choral conductor, Elizabeth brings a great sense of musicality and sensitivity to her singing. She attended the Zoltán Kodály Pedagogical Institute of Music in Kecskemét, Hungary and has degrees from Capital University, and the University of Illinois. Elizabeth has performed as a soloist with The Bay View Music Festival, The Illinois Opera Theater, Sinfonia da Camera, Champaign-Urbana Symphony Orchestra, Prairie Ensemble, Bach Collegium, Baroque Artists of Champaign-Urbana, The CHORALE, Nova Singers, the Corelli Quartet, Concerto Urbano, the University of Illinois Symphony Orchestra, the University of Illinois Oratorio Society, the University of Illinois Chorale and Concert Choir, Danville Symphony, and Galesburg Community Chorus.